Local Non-Profit Awarded $1,500 Grant
Published: 01/15/2019
Published in: Press Release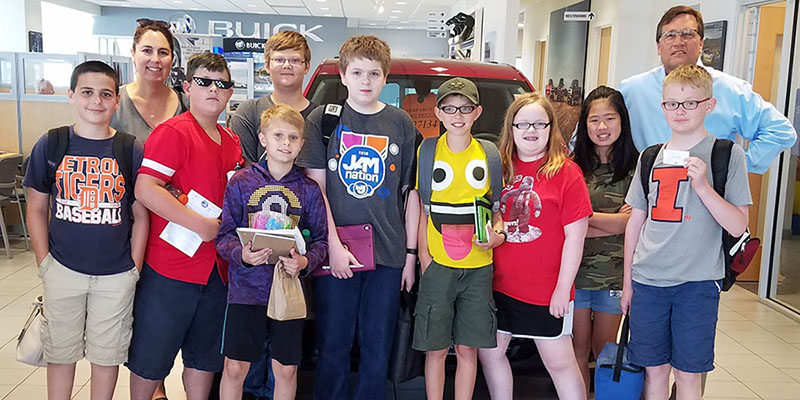 Jan. 10, 2019, Clinton, IL – First National Bank's non-profit arm, TS Institute, was awarded a $1,540 grant by the Illinois Prairie Community Foundation from its Youth Engaged in Philanthropy (YEP) Fund and to purchase technology for its DeWitt County Entrepreneur Camp.
The grant will be used to purchase $1,540 worth of Apple iPads and accessories for use at the annual entrepreneur camps geared towards middle school students held in Clinton, Ill.
"When I held the camps last summer, I quickly learned the students were unfamiliar with the technology needed to produce a short commercial for their proposed businesses, which is a requirement in the curriculum," stated Connie Unruh, CPA, Financial Literacy Coordinator.
In 2019, Unruh plans to solve the technology gap by supplying each team with an iPad and instruction on how to use iMovie. Additionally, a video professional will coach the students on how to improve the quality of their commercials.
"I am beyond excited for the opportunity to introduce this technology to our students and help them get familiar with using technology in a creative way," stated Unruh. "I sincerely appreciate the opportunity Youth Engaged in Philanthropy is giving my students!"
The middle school camp will be held in Clinton, IL in June of 2019.
Financial literacy is one of the core values at First National Bank and Trust Company which is why they chose to reinvest in their non-profit arm, the TS Institute. The non-profit exists to collaborate with school districts and promote financial literacy and is mostly made possible by First National Bank and Trust Company's mission to reinvest 10 percent of its pre-tax income back into the community in addition to other grants. TS Institute's goal is to provide programming to students in grades K-12 and increase their knowledge to make sound financial decisions.
For more information about this camp, financial literacy activities or how to get them implemented at your school or organization contact Connie Unruh at (217) 935-7464 or visit firstnbtc.com/about-us/financial-literacy.html.
About First National Bank and Trust Co: First National Bank & Trust Company is a community bank located in Clinton, Illinois. Dedicated to community prosperity, the bank was chartered in 1872 under the name DeWitt County National Bank. The name was changed First National Bank and Trust Company in 1974, and was acquired by TS Banking Group in 2017. With $170 million in assets, First National Bank is dedicated to community reinvestment and gives 10% of its net income back to the community, including support of its non-profit arm, TS Institute. For more information visit firstnbtc.com.
Back