Covalesky ready to use recent training in new role with First National Bank and Trust
Published: 03/07/2019
Published in: Press Release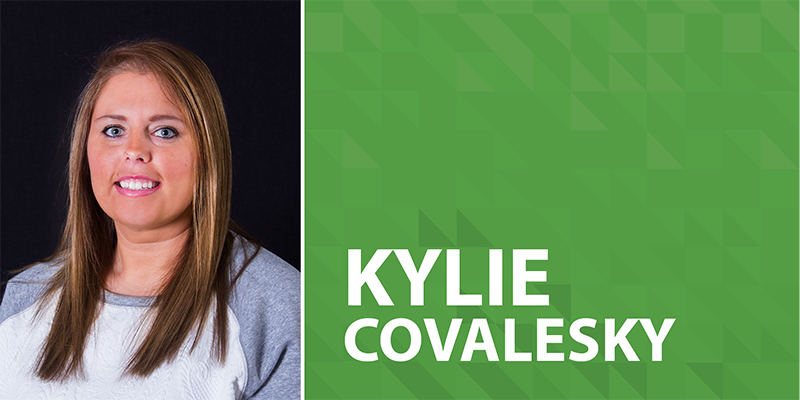 CLINTON, Ill. – Kylie Covalesky has been farming in DeWitt County since she was young. And when she's not with her horned Hereford cattle, she's helping farmers and other clients achieve their goals with First National Bank and Trust Company in Clinton, Illinois.
Covalesky recently took on a role as a credit operations specialist with the bank, shifting over from her previous position as a universal banker.
"I feel very honored that First National has invested the time and trust in me to become a credit operation specialist," Covalesky said. "I'm really excited about this opportunity."
Covalesky joined the First National team in September of 2017. In her new role, Covalesky helps clients with a variety of financing options and financial instruments. That work has been enhanced through her participation in the Midwest Agricultural Banking School and the Future Leaders Alliance.
Covalesky graduated from the Midwest Ag Banking School at Purdue University in West Lafayette, Indiana in November of 2018. During the four-day program's 46th class the curriculum provided students with a foundation for agriculture credit and finance, farm management, marketing and additional related subjects.
"I have been involved in ag my entire life and the Ag Banking School was a logical next step for me," Covalesky said.
The school is a partnership among multiple state banking organizations, Purdue University, ag banking professionals, ag producers and educators. Covalesky has been involved in agriculture her entire life in DeWitt County, growing up showing horses, sheep, cattle, goats and pigs through 4-H. She's still involved with 4-H locally and is a member of the young leaders group for the DeWitt County Farm Bureau.
Additionally, in early March Covalesky graduated from the Future Leaders Alliance program offered through the Illinois Bankers Association. The thirteen-month FLA program is dedicated to enhancing the professional development of promising bank leaders through three primary components: education, community service and networking.
Participants were involved in comprehensive training, which involved attending educational sessions and performing local community service. For her service project, Covalesky taught financial literacy at Clinton elementary schools.
The Future Leaders Alliance education sessions covered core topics such as leadership and influence, communication, team building, coaching, financial marketing and branding, legislative process, accounting for bankers, asset liability management, regulatory hot topics and more. Attendees executed an on-line banking simulation as well.
"I truly enjoyed the team building part of the program," she said, noting a trip to the Monticello 4-H Camp for team-oriented activities. "It is a great way to learn more about yourself and how you react in different situations."
FLA program leaders selected Covalesky for a scholarship that will send her to Washington D.C. in April for the American Bankers Association's Government Relations Summit.
Covalesky said she enjoyed her time in both programs and is excited to apply new skills to her position as a credit operations specialist.
"Both of these programs helped develop a broad range of skills and knowledge for this position. I gained a lot of experience and training through the ag banking School critical for this position," she said. "With the help of FLA, I developed strong relationships with other bankers in the field that are always just a phone call away that are willing to help in any situation."
Covalesky can be reached by calling (217) 935-2148 or by stopping by the First National Bank location at 2 Kelli Court in Clinton, Illinois. For more information on First National Bank, visit firstnbtc.com.
About First National Bank and Trust Co: First National Bank & Trust Company is a community bank located in Clinton, Illinois. Dedicated to community prosperity, the bank was chartered in 1872 under the name DeWitt County National Bank. The name was changed First National Bank and Trust Company in 1974, and was recently acquired by TS Banking Group in 2017. With $177 million in assets, First National Bank is dedicated to community reinvestment and gives 10% of its net income back to the community. For more information visit firstnbtc.com.
About the Illinois Bankers Association: The Illinois Bankers Association is a full-service trade association dedicated to creating a positive business climate that benefits the entire banking industry. Founded in 1891, the IBA brings together state and national banks and savings banks of all sizes and collectively represents the vast majority of banking assets and banking employees in Illinois.
Back