Trust Department Announces New Fiduciary Officer
Published: 01/14/2019
Published in: Press Release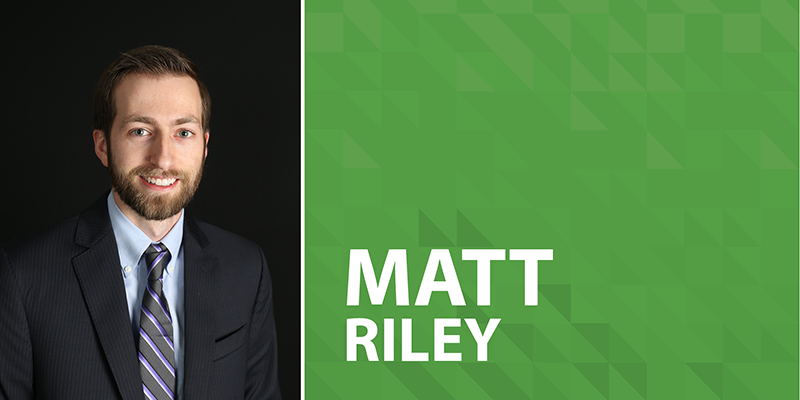 Clinton, IL – First National Bank and Trust Company, a community bank located in DeWitt County, is pleased to announce Matt Riley as Fiduciary Officer, VP of its trust division. Riley will office at First National Bank's location at 2 Kelli Court in Clinton, Ill.
Riley has four years of experience in risk analysis, serving most recently as a Risk and Compliance Analyst at State Farm Bank in Bloomington, Ill.
"The opportunity to welcome Matt to our team is an exciting time for all of us at First National. As our current and future clients in the community meet Matt and work with him on finding the right balance in their financial plans, I'm confident that they will be just as eager and confident to work with him as we are. Matt's commitment to finding what is right for the client is just one of the many skills that make him a great addition to our team," said Josh Shofner, president.
As Fiduciary Officer, Riley will manage First National Bank's trust portfolio while helping clients find new ways to meet their prosperity goals. He will focus on growing the portfolio and working to establish relationships with referral sources.
"This division of First National Bank provides families valuable trust services in their greatest time of need," said Shofner.
The First National Bank and Trust team provides families with fiduciary services that include corporate trustee and co-trustee powers, estate administration, risk investment management, bill paying and more.
"The problem today is that people underestimate the amount of risk in their financial plan. We solve this by educating on financial risk and implementing a risked based plan that fits your family, said Riley. "This allows our clients to sleep better knowing their prosperity is protected and will be there for the next generation."
"I am excited for this new opportunity and to meet all of our current clients while working to grow the portfolio," said Riley. "My wife and I are looking to establish roots in the area and looking forward to getting to know the community."
Riley is in the process of moving to Forsyth, Ill. with his wife Alexis. In his free time, he enjoys working on home improvement projects, reading non-fiction books and relaxing with his dog. Riley attended Illinois State University earned his Bachelors in Finance with a minor in Financial Planning.
Riley can be reached by calling (217) 935-2148 or by stopping by the First National Bank location at 2 Kelli Court in Clinton, Ill. For more information on First National Bank, visit firstnbtc.com.
About First National Bank and Trust Co: First National Bank & Trust Company is a community bank located in Clinton, Illinois. Dedicated to community prosperity, the bank was chartered in 1872 under the name DeWitt County National Bank. The name was changed First National Bank and Trust Company in 1974, and was acquired by TS Banking Group in 2017. With $177 million in assets, First National Bank is dedicated to community reinvestment and gives 10% of its net income back to the community, including support of its non-profit arm, TS Institute. For more information visit firstnbtc.com.
Back