First National Bank and Trust Donates $3,500 to the DeWitt County 4-H Foundation
Published: 09/13/2017
Published in: Press Release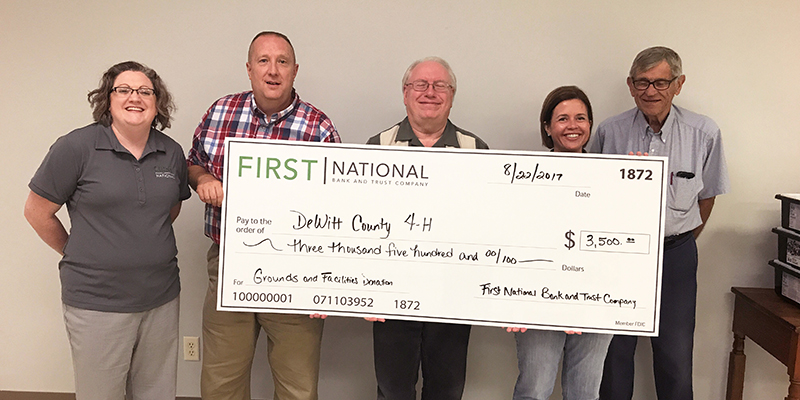 Clinton, IL, Sept. 9, 2017 – First National Bank and Trust Company donated $3,500 toward the DeWitt County 4-H Foundation, an organization committed to bringing an understanding of livestock and service to the local community.
This gift will be used to help with fairground improvements, specifically an updated kitchen.
"By donating to the 4-H Foundation, we can make the 'best even better' as a 4-H partner," said Megan Barth, member of the 4-H board.
"With this donation, it makes projects possible that can impact the 4-H as a whole. This money can be used for projects like updating the kitchen, adding air conditioners to the building, along with a variety of other grounds improvements like these," said Megan Barth, VP of Personal Banking. "With the variety of education and life lessons taught throughout all the 4-H programs, FNBT is honored to partner with them!"
To learn more about First National Bank and Trust Company, visit firstnbtc.com.
About First National Bank and Trust Co:
First National Bank & Trust Company is a community bank located in Clinton, Illinois. Dedicated to community prosperity, the bank was chartered in 1872 under the name DeWitt County National Bank. The name was changed First National Bank and Trust Company in 1974, and was recently acquired by TS Banking Group in 2017. With $125 million in assets, First National Bank is dedicated to community reinvestment and gives 10% of its net income back to the community. For more information visit firstnbtc.com.
Back